Join Us For a Once-In-A-Lifetime Evening of Dinner, Dancing, and an
Exclusive Screening of RESPECT starring
Academy Award® winner Jennifer Hudson as Aretha Franklin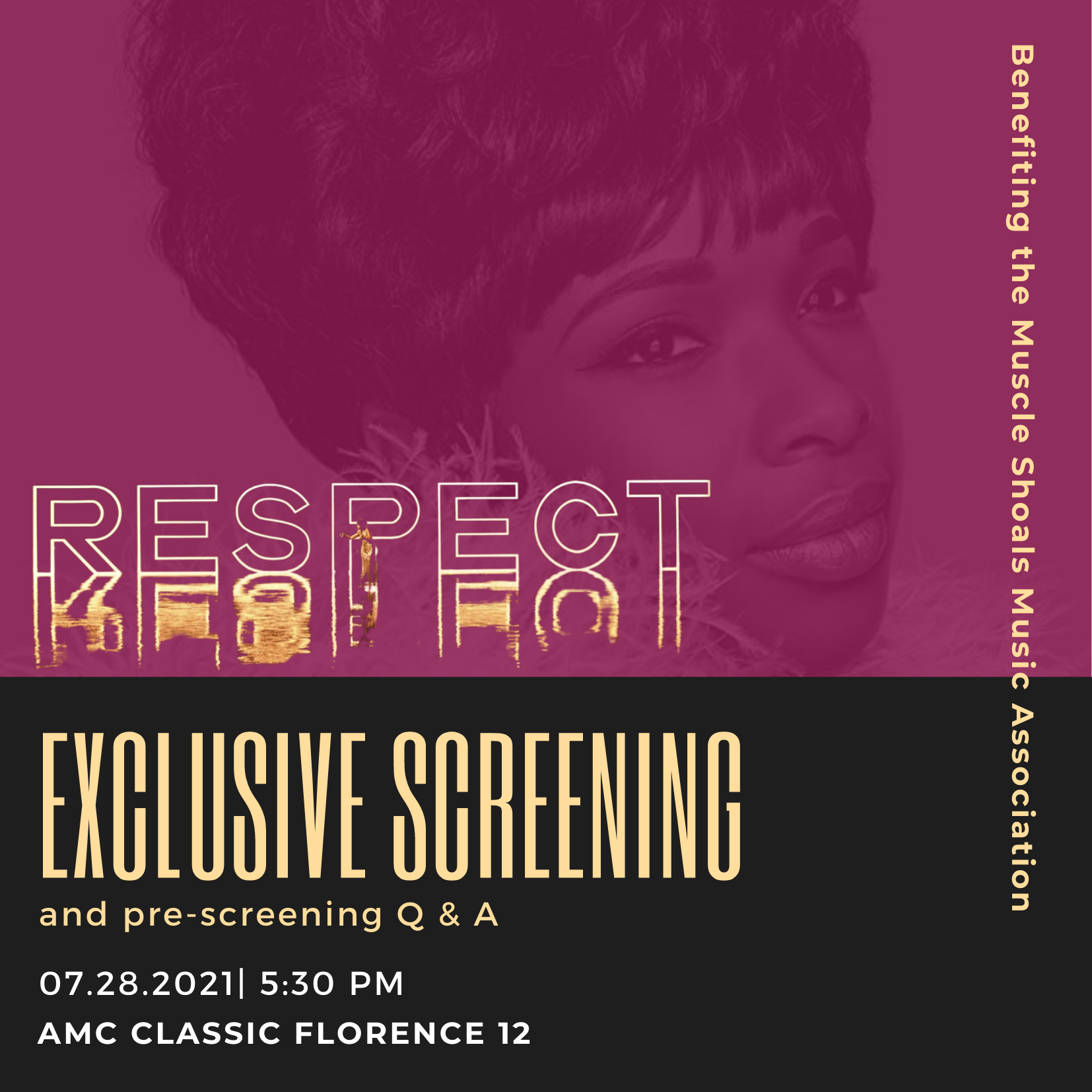 Be one of the first people in the world to see Academy Award® winner Jennifer Hudson bring Aretha Franklin to the big screen — then celebrate the Queen of Soul with an unforgettable evening of dinner and dancing benefiting the Muscle Shoals Music Association — preceded by an exclusive Pre-screening Q&A with Aretha session musicians and music legends: Spooner Oldham and David Hood.
Miss Franklin's first smash hits were recorded at Muscle Shoals's own Fame Recording Studios with producer Rick Hall and legendary Muscle Shoals musicians Spooner Oldham, David Hood, Jimmy Johnson, and Roger Hawkins.
Enjoy a spectacular evening of entertainment and fundraising with the Muscle Shoals Music Association! Included with your VIP ticket is a complimentary screening of the upcoming motion picture RESPECT, starring Academy Award® winner Jennifer Hudson as the legendary Aretha Franklin. This incredible story was written by Callie Khouri and Tracey Scott Wilson, with screenplay by Tracey Scott Wilson and directed by Leisl Tommy.
Complimentary VIP screening, Q&A, Dinner, and Singing River Dance Party donation: $150
$40 donation to MSMA receives a complimentary general admission ticket to screening.
Tickets can be purchased here: bit.ly/fame_respect
This exclusive package includes:
Pre-screening Q&A with Spooner Oldham and David Hood who played on the Aretha sessions at Fame Recording Studios and are portrayed in the film.
Music Shoals after-party including dinner and dance party with world-renowned DJ Russ "BoomBox" Randolph spinning Muscle Shoals classics from yesterday and today.
After Party starts at 9 pm at the Singing River Room & Terrace | Marriott Shoals Hotel Conference Center | 10 Hightower Place, Florence, AL 35630. Tickets are open to the public.
100% of your purchase is a tax deductible donation to Muscle Shoals Music Association (MSMA).
*Recording devices (including phones that have recording capability) are not allowed in the theatre during the screening. By attending, you agree not to bring any such device into the theatre, consent to a physical search of your belongings and person, and consent to monitoring during the screening. Any attempted use of a recording device will result in your immediate removal from the theatre and forfeiture of the device, and may subject you to criminal and civil liability. Thank you for your cooperation. The health and safety of our guests and staff is our top priority. We ask that all event attendees wear a mask while indoors to help protect against the spread of the COVID-19 virus.
Muscle Shoals Music Association Mission Statement:
Founded in 1975, The Muscle Shoals Music Association is a 501(c)3 non-profit organization with the mission of "preserving and promoting the legacy and future of Muscle Shoals Music, while creating educational and employment opportunities for a new generation of music makers."
The MSMA's purpose is built on the pillars of education, employment and awareness. The MSMA develops programs to educate through local, regional and world-wide educational systems and organizations. Go to www.muscleshoalsmusicassociation.com for more information.