FAME Music reboot breathes new life and injects new blood into the legendary soulful Muscle Shoals sound
MUSCLE SHOALS, Ala. — January 14, 2019 — FAME Music is excited to announce a reboot of the FAME brand, including a recently released tribute album, revamped website, new merchandise, and tours of the iconic FAME Recording Studios in celebration of the unique and enduring musical legacy of small-town Muscle Shoals, Ala.
Rodney Hall, son of legendary FAME recording studio owner and producer Rick Hall, is the thrust behind kindling new interest, growing the heritage and preserving the legacy of the one-of-a-kind Muscle Shoals sound — a distinctive blend of gritty, edgy, classic southern rock and soul mixed with the soulful energy and authenticity that FAME Recording Studios inspired in artists who recorded there.
"FAME Recording Studios brought out the best in so many incredibly talented musicians and performers," Hall said. "There was something about it — a magic, a mystique, an energy, a vibe — that drew music straight out of the souls of the performers. Its character has only seasoned with time."
A home and hangout to legendary musicians of the 60s, 70's and 80s, FAME Recording Studios remain among the top-notch, working studios today, and was the recording site for the recently released and #1 Americana album Muscle Shoals: Small Town, Big Sound.
Curated by Hall and producer Keith Stegall, the album features artists who hail from a wide range of genres and represent varied and distinctive stylistic backgrounds, including Steven Tyler, Willie Nelson, Michael McDonald, Keb' Mo' and Alison Krauss, among others, who re-recorded classics originally tracked in the Shoals area like "Mustang Sally," and "Brown Sugar." The 16 album tracks spotlight the influential sound represented in classic hits by The Rolling Stones, Bob Dylan, Etta James and more. In some, the Muscle Shoals session musicians, reprise their parts from the original productions teaming with the new generation of Muscle Shoals session players. In the weeks since its release, Sept. 28, 2018, Muscle Shoals: Small Town, Big Sound has risen to the top of the charts for both album and single, garnering praise along the way. View the album's trailer:
In addition to the homage album, Hall's efforts to breathe new life and new voices into classic sound and songs include studio tours and new merchandise. "The heartbeat of the Muscle Shoals sound goes on," Hall said, "right here at FAME Studio, where it all began and where it echoes and resonates today."
For fans — new and old — of the Muscle Shoals sound, enthusiasts of what is now being termed the Americana genre, music history buffs, and those who simply want to experience the site that inspired so many unforgettable artists, FAME Recording Studio tours are available. For more information, visit FAME's website, FAMEStudios.com, or call 256-381-0801. For those who want to wear or share their love for all things FAME, new merchandise, including hats, T-shirts, mugs, guitar picks and more, is now available on the website.
About FAME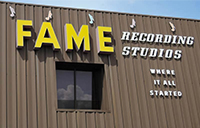 FAME Music was established in 1959 in Florence, Ala., and moved to Muscle Shoals, Ala., in 1961, where it became the indisputable heartbeat of the iconic Muscle Shoals Sound. FAME Music entities include FAME Publishing, FAME Recording Studios, FAME Records House of Fame, LLC and Rick Hall Music Inc. FAME has worked in the studio with some of the greatest artists in rock music history and has been involved in recording or publishing records that have sold more than 350 million copies worldwide.