FAME Recording Studios is excited to announce the availability of its popular podcast series, "Through These Doors: A FAME Studios Podcast," on Apple Podcasts. The podcast can also be streamed on Spotify and in the Backstage section of FAME's official website.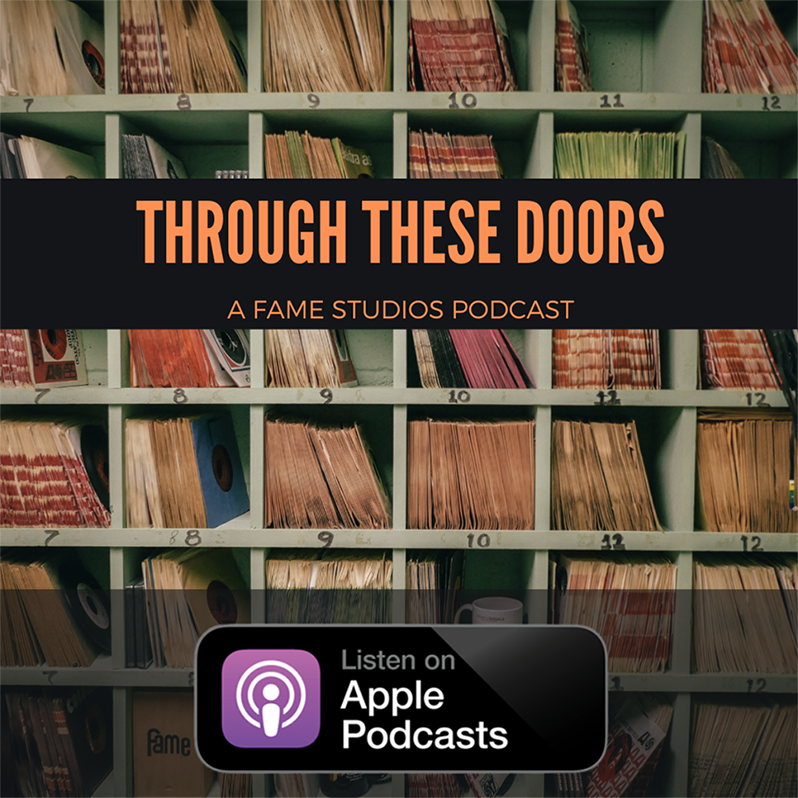 With a rich history spanning over 60 years, FAME Studios has been a beacon in the music industry, providing a creative haven for an extraordinary roster of musicians, songwriters, artists, and producers. Continuing this legacy, FAME Studios' very own Rodney Hall takes listeners on an inside journey through the influential studio's past, present, and future.
On the show, Hall talks with musicians, engineers, producers, and Muscle Shoals luminaries who have transformed this humble Alabama town into an iconic landmark in contemporary American music. Each episode offers an insightful behind-the-scenes exploration into the world of FAME and the distinctive Muscle Shoals sound that has been instrumental in creating countless hit records.
From the inaugural episode with respected producer/engineer Glenn Rosenstein to the latest episode with legendary drummer Owen Hale, each installment offers a deep dive into the vast history, craft, and unique experiences shaping the music born at FAME.
Past guests have included a variety of prominent figures in the music industry, such as sax legend and songwriter Charlie Chalmers, known for shaping timeless classics like "Son of a Preacher Man" and "Respect;" celebrated bassist Bob Wray, who has played with an array of legends like Johnny Cash and Roy Orbison; musician, singer, songwriter, and producer Walt Aldridge, credited with numerous songs of the year; legendary producer and musician Clayton Ivey, renowned for his extensive portfolio of hit record; Muscle Shoals music legend Norbert Putnam, who has worked with industry greats like Elvis Presley and Jimmy Buffet; the First Lady of Southern Soul, Candi Staton, a chart-topping artist and Alabama Music Hall of Fame inductee; Recording Academy Chair, President, and CEO of Harvey Mason Media, Harvey Mason Jr.; David Shaw, the lead singer of the hit rock group The Revivalists; and ACM, CMA, and Grammy-winning songwriter/producer Keith Stegall, founder of Dreamlined Entertainment.
"Through These Doors: A FAME Studios Podcast" allows music enthusiasts to delve into detailed discussions about the art of creating enduring music. The podcast features anecdotes about the recording process, experiences from touring with rock & roll legends, and memorable narratives from FAME Studios' illustrious past.
Music aficionados are invited to tune into "Through These Doors: A FAME Studios Podcast," now available on Apple Podcasts, Spotify, and the Backstage section of FAME's website.