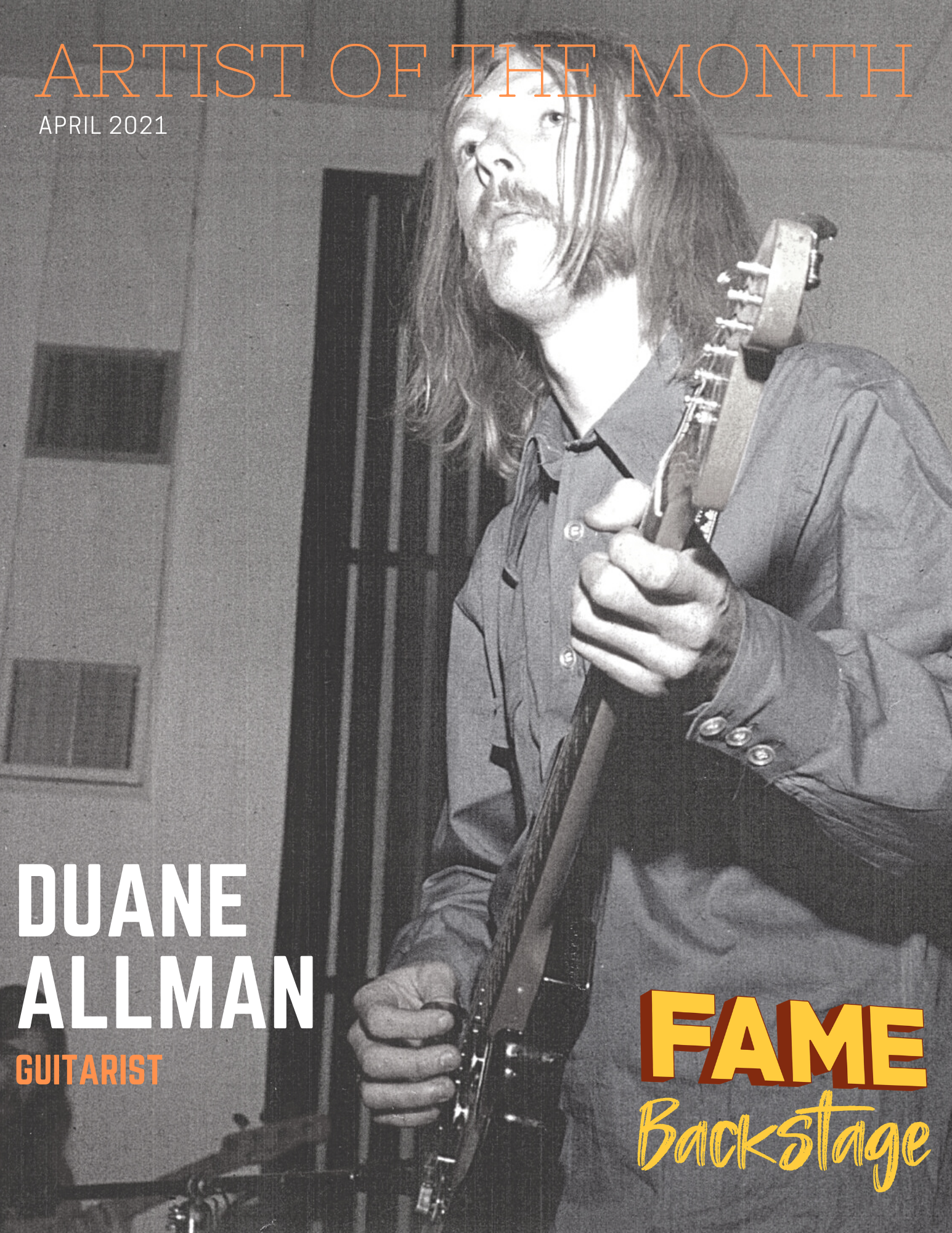 There are millions of guitar players around the world; tens of millions. So, to be thought of as one of the greatest guitar players of all-time, you've got to be pretty special. Duane Allman was a special guitar player — and human — to say the least. In 2003, Duane was ranked number 2 in Rolling Stone magazine's list of the 100 greatest guitarists of all time. 
There are some guitar players — maybe a handful — who transcend the boundaries of the instrument to a point where you hear a song and you know right away who is playing. Duane Allman was one of those players and his guitar tone was named one of the greatest of all time by Guitar Player.
In 1968, at the age of 22, Duane moved to Muscle Shoals to work as a session guitarist in a studio where he and his brother, Gregg, had recorded earlier that year with their band Hour Glass. Duane arrived in Muscle Shoals, pitched a tent and camped out in the parking lot of FAME Studios in order to be closer to the recording sessions. 
During his time at FAME, Duane Allman put his indelible mark on some of the most timeless recordings to come out of that — or any — era, including Wilson Pickett's cover of the Beatles' "Hey Jude," Clarence Carter's "The Dynamic Clarence Carter," Arthur Conley's "More Sweet Soul," and King Curtis' Grammy Award winning cover of The Band's 'The Weight," which includes slide guitar work that still puts players jaws on the floor to this day. Auditions for what would become the Allman Brothers Band were later held in FAME's historic Studio B with Gregg meeting and playing with Jaimoe and Berry Oakley for the first time.
Duane's time in Muscle Shoals allowed him to let loose the kinetic energy he felt had been stifled by his time shuffling around the Los Angeles music scene:
"I rented a cabin and lived alone on this lake," he said. "I just sat and played and got used to living without a bunch of jive Hollywood crap in my head. It's like I brought myself back to earth and came back to life again through that, and the sessions with good R & B players."
Allman's work on Pickett's "Hey Jude" album brought him to the attention of other musicians, including Eric Clapton who later said, "I remember hearing Wilson Pickett's 'Hey Jude' and just being astounded by the lead break at the end. I had to know who that was immediately — right now."
Sadly, Duane Allman's life was cut short when he was killed in a motorcycle accident on October 29, 1971, shortly after the release of The Allman Brothers' ultra-successful "At Fillmore East." 
It's been 50 years since the death of Duane Allman, yet his stature has only grown over the years. Every guitar player who has walked through the famous doorway at FAME feels the spirit and sound that still echoes through the rooms and know they have big strings to fill. This month, FAME is humbled and proud to honor a true legend in the history of music: The Sky Dog, Duane Allman.