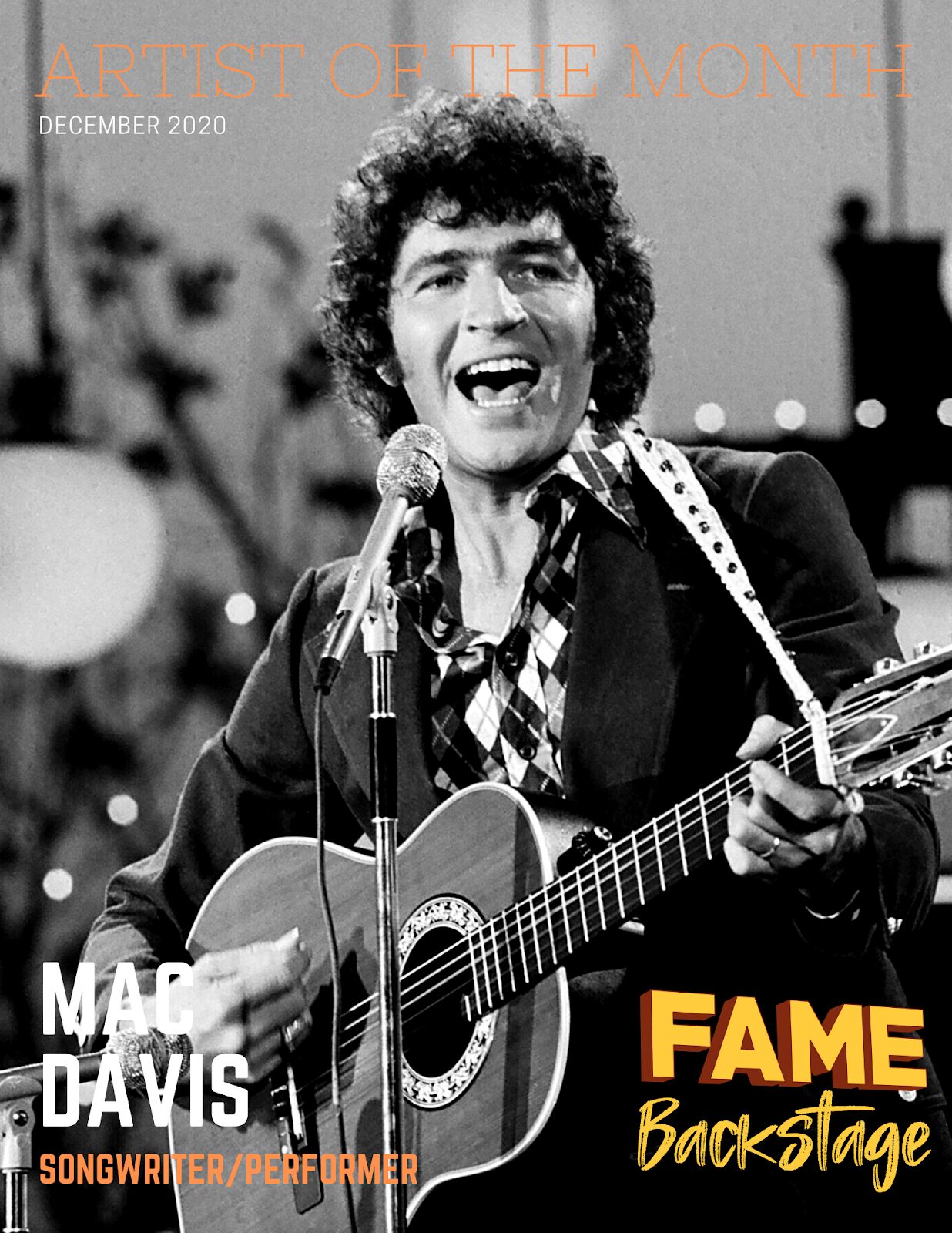 In September of 2020, we lost one of our closest and dearest members of the FAME family.
Mac Davis was not only one of the great musicians/songwriters/performers to ever grace the American music scene, he was also one of the most selfless and caring human beings that the world has ever known.
Mac was an inductee to the Songwriters Hall of Fame, the Nashville Songwriters Hall of Fame, the Texas Country Music Hall of Fame, the Georgia Music Hall of Fame and received a BMI Icon Award for his decades-long contribution to the American songbook. He has a star on Hollywood Boulevard's Walk of Fame and a street named in his honor in his hometown of Lubbock, Texas: Mac Davis Lane.
Some will know Mac from his chart-topping solo hits, including "Baby Don't Get Hooked on Me," "Texas in My Rearview Mirror" and "It's Hard to Be Humble."
Some will know Mac from the songs he wrote that were performed and recorded by hundreds of artists, including Nancy Sinatra, Dolly Parton, Johnny Cash, Merle Haggard, Reba McEntire, Tom Jones, and many more, including his songs that became hits for Elvis Presley, including "In The Ghetto" and "A Little Less Conversation."
Never a one-trick pony, Mac was one of those people who excelled at everything he put his mind to and along with his successful career in music, he also had a thriving career as an actor, starring in the films "North Dallas Forty," "The Sting II," and "Possums." He also starred as Will Rogers in "The Will Rogers Follies" on Broadway, hosted an episode of "The Muppet Show," and hosted his own variety show "The Mac Davis Show" on NBC.
Here at FAME, we will not only remember Mac as a world-class entertainer, but as a true friend who was always there whenever you needed him. Mac was never shy about using his celebrity status to bring about positive change in the world, and was a life-long supporter of the FAME Girls' Ranch, generously donating his time and talents whenever we held a benefit or fundraiser.
Mac will be missed here at FAME, but he will always live on in the music he left us, his extensive charity work, and the stories of camaraderie and kindness that will forever echo in the walls of this studio and on the streets of Muscle Shoals.
Thank you for everything, Mac.