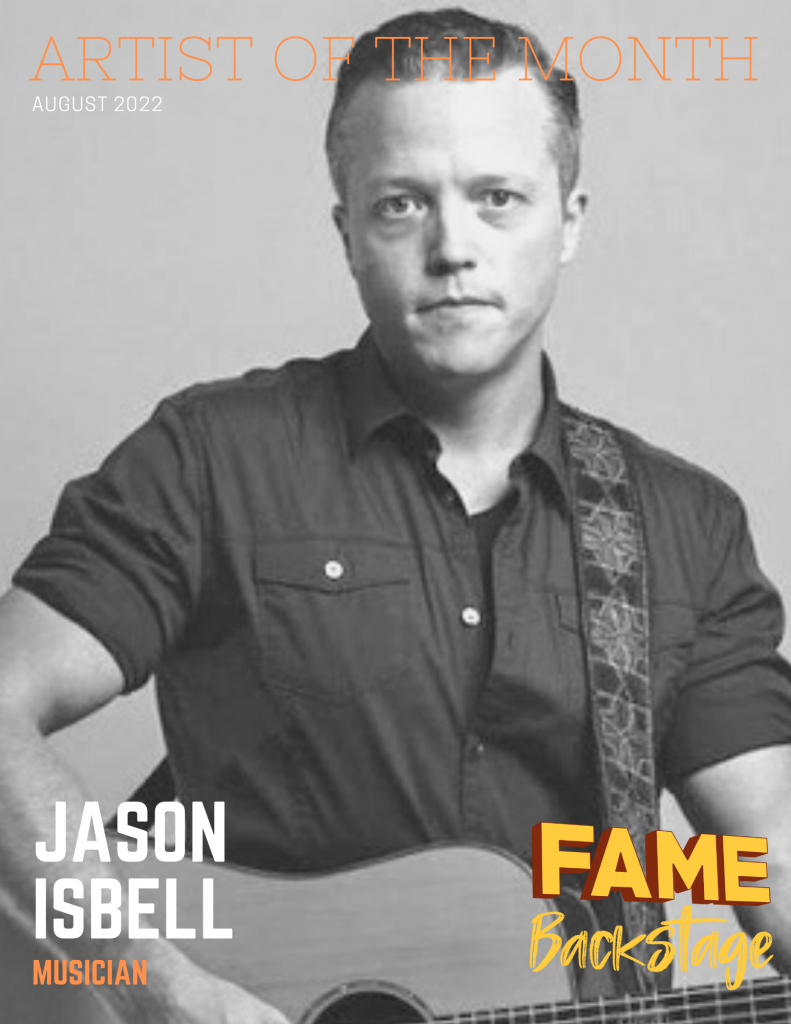 Praised for his masterful poetics and tasty guitar playing, four-time GRAMMY® winner Jason Isbell is considered one of the great Americana artists of our time.
Growing up in Northern Alabama, he was surrounded by music and learned to play multiple instruments through his family, playing in the school band, and singing at the church where his grandfather also preached and played guitar. Isbell believes his Alabaman heritage greatly impacted his development as a musician saying, "I definitely don't feel like I would be the musician that I am, or the type of songwriter, had I not come from that particular place."
He put his heart and soul into playing music and performed at the Grand Ole Opry at the tender age of 16, Just five years later, he received a publishing deal with Rodney & Mark Hall as the first new writer of their recently acquired FAME Publishing company, beginning a fifteen year relationship that includes recording and writing as a member of The Drive-By Truckers on their albums Decorations Day, Dirty South, Blessing and a Curse as well as his solo albums Sirens of the Ditch, Jason Isbell & the 400 Unit, Here We Rest, and Southeastern. Jason has also produced at FAME on the Blind Boys of Alabama track "Christmas in Dixie," as well as a duet with John Paul White on "Old Flame". Both of which were included on a tribute to the country supergroup Alabama. Jason and John Paul White were featured on a track with Candi Staton for the album Muscle Shoals-Small Town Big Sound". The track would go on to be one of legendary producer Rick Hall's final final productions. Isbell has said that working at FAME Studios meant everything to him, that it was a gateway towards the music that he wanted to play.
The name of his GRAMMY® winning band The 400 Unit is also deeply rooted in his time in Alabama. The 400 Unit is the name of a mental treatment facility in Florence, Alabama. As Isbell tells it, "About once a week they would drive downtown and take, I guess, the six or eight healthiest people in the facility and let 'em go downtown. Give 'em all like $15 apiece to go get some lunch. You'd immediately recognize who it was and why they were there; they all had nametags on, saying kinda strange stuff to everybody. And trying to get a sandwich at the same time," adding, "When I started thinking about a band, and how we get to a new town and everybody gets $15 and gets out of the van, goes out and tries to get a sandwich, it kinda reminded me of that." Both bassist Jimbo Hart and drummer Chad Gamble are Shoals area natives and have done a lot of studio session work at FAME outside of the 400 Unit over the last 20 years.
In addition to his four GRAMMY®s, Isbell has won nine Americana Music Honors and Awards and was the Country Music Hall-of-Fame Artist in Residence for 2017. He has also seen success across multiple genres as his album Something More Than Free debuted at number 1 on Billboard Magazine's rock, folk and country record charts. Something More Than Free, Southeastern, and The Nashville Sound (with The 400 Unit) have sold nearly 150,000 copies each, with Southeastern being his most recently recorded album at Fame Studios. For The Nashville Sound (with The 400 Unit), Isbell garnered four peak chart positions in the United States and eight top-40 peak chart positions in Australia, Canada, Denmark, New Zealand, Norway, Scotland, Sweden, and the United Kingdom.
Isbell is married to fellow Americana superstar Amanda Shires, co-founder of the Highwomen, and the two share a daughter together. He is an avid player and collector of guitars. He believes a special guitar "…is one that fulfills its purpose in design," and discussed some of his vintage guitars with Guitar World in 2020. He currently owns roughly 50 to 60 guitars including a '53 Les Paul gold top, a '59 'burst dubbed "Red Eye" that once belonged to Lynyrd Skynyrd's Ed King, a '65 Tele, a '60 Strat, a '61 ES-335, a Gretsch White Falcon given to him by John Prine, a mid-50s Martin D-18, and more in his collection.
Outside of his musical career, Isbell has also seen success in acting with his first role being in 2016 providing the voice for pastor Kyle Nubbins in the animated television series Squidbillies. In 2021, Isbell earned his biggest role in the upcoming Martin Scorsese film Killers of the Flower Moon.
In 2019, Jason along with his manager, Traci Thomas gave the Shoals some love and launched their music festival, Shoalsfest. The festival has hosted thousands of fans to shows with artists like Sheryl Crow, Mavis Staples, Candi Staton, Drive By Truckers, Amanda Shires and Lucinda Williams and is one of the premier events in the Shoals musical calendar..
A loving husband, father, and other-worldly musician, Jason Isbell has achieved global success on a level that we at FAME knew was possible. Jason will always have a special place in our hearts as a member of the FAME Gang and we're excited to see him continue to make genre-defining and genre-expanding music in the future.