For Immediate Release
8 TRACK ENTERTAINMENT OPENS DOORS IN MUSCLE SHOALS
ANNOUNCES INAUGURAL PARTNERSHIP WITH HISTORIC FAME RECORDING STUDIOS
FOR FUTURE MUSIC PROJECTS INCLUDING THE
"60th ANNIVERSARY OF FAME AND THE MUSCLE SHOALS SOUND" ALBUM
SIGNS GRAMMY® AWARD-WINNING GROUP SHENANDOAH TO
8 TRACK RECORDS
Muscle Shoals, AL (April 12, 2022)….Newly formed global entertainment company 8 Track Entertainment has entered into an inaugural partnership with historic Fame Recording Studios for future music projects, reveals the signing of Grammy® award-winning country stars Shenandoah and plans to release the "60th Anniversary Of FAME And The Muscle Shoals Sound" album. All projects will be distributed by Warner Music Group's ADA via 8 Track Records, a division of 8 Track Entertainment. 8 Track Entertainment founding partners Noah Gordon/President, Jeff Goodwin/Vice President, Marketing & Partnerships and Bill Harbin/Vice President, Corporate Partnerships announced that the Alabama Corporation will be based in Muscle Shoals with satellite offices in Nashville, Tennessee.
"I am absolutely delighted to sign Shenandoah to 8 Track Records as Muscle Shoals is where it all began for this group at the outset of their career. They will return to FAME to record their next project scheduled for release in the coming months," stated Gordon. "New music will also be coming from Ira Dean, LeBlanc Family Band, BoomTown Saints, and Ivas John. In addition, 8 Track and FAME have numerous co-ventures planned for the future including music publishing, TV/Film, touring/live events and music programs for community schools. We will be intentionally working with outside studios as the bigger movement is about Muscle Shoals and Alabama…not only FAME."
"We are very excited to partner with 8 Track Entertainment on this next chapter in Muscle Shoals music's historic legacy. Our music is currently on fire with the Shoals represented on almost every major award show over the last few years," commented Rodney Hall, Co-Owner and President of FAME Publishing/FAME Records/FAME Recording Studios. "We look forward to working with the entire Shoals music scene to bring opportunity to artists, producers, engineers, studios, songwriters, musicians as well as all the other music related businesses."
The partnership's first project, "60th Anniversary Of FAME And The Muscle Shoals Sound," between the newly revamped storied FAME Records and legendary producer, Keith Stegall's Dreamlined Entertainment, is currently in production and is set for release later this year. It will feature such artists as War & Treaty, Demi Lovato, Chris Stapleton, Shenandoah, Candi Staton, Willie Nelson, LeBlanc Family Band, Alison Krauss, The Fame Gang, Alan Jackson, Anderson East, Vince Gill, Billy D. Allen, Michael McDonald, and others.
---
About 8 Track Entertainment:
8 Track Entertainment is a multi-faceted global entertainment company based in Muscle Shoals, Alabama with satellite offices in Nashville, Tennessee. Under the 8-Track Entertainment moniker is a Sports and Entertainment Management division, a Music Production and Publishing entity, and a full-service TV/Film division. Since launching in 2021, 8-Track Publishing has celebrated its first #1 Billboard Hot Country Song (Aaron Lewis/"Am I The Only One") and first #1 iTunes Country Album (Aaron Lewis/"Frayed At Both Ends"), and #7 iTunes Country Album (Eddie Montgomery/"Ain't No Closing Me Down."). The company has also partnered with the NHRA to produce an exciting live concert series launching later this year.
8 Track Entertainment founding partners are Grammy-award winning engineer/producer and ASCAP-award winning songwriter, Noah Gordon; Jeff Goodwin, Vice President Marketing & Partnerships; and Bill Harbin,Vice President Corporate Partnerships. Visit www.8TrackEnt.com for more information.
About FAME: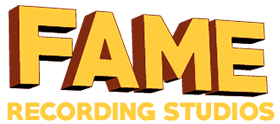 FAME Music was established in 1959 in Florence, Ala., and moved to Muscle Shoals, Ala., in 1961, where it became the indisputable heartbeat of the iconic Muscle Shoals Sound. FAME Music entities include FAME Publishing, FAME Recording Studios, House of Fame, FAME Records and Muscle Shoals Music Group. FAME has worked in the studio with some of the greatest artists in music history—including, but not limited to, Aretha Franklin, Wilson Pickett, Alicia Keys, Jason Isbell, and Etta James—and has been involved in recording and/or publishing records that have sold more than 400 million copies worldwide. Visit FAME at www.famestudios.com.
About Shenandoah:

Shenandoah originally formed in Muscle Shoals, Alabama in 1985. The band has charted 26 singles on the Billboard Hot Country charts, including #1 hits "The Church on Cumberland Road," "Sunday in the South" and "Two Dozen Roses" from 1989, "Next to You, Next to Me" from 1990, and "If Bubba Can Dance (I Can Too)" from 1994. The single "Somewhere in the Vicinity of the Heart," which featured guest vocals from Alison Krauss, won both artists a GRAMMY® Award for "Best Country Performance by a Duo or Group with Vocal." To date, the group has sold millions of albums worldwide.
Visit www.ShenandoahBand.com for additional information.
8 Track Entertainment
PO Box 120755
Nashville, TN 37212
Claire@8TrackEnt.com