At FAME Studios, we continue to share our passion for the unique and iconic Muscle Shoals sound. We couldn't have predicted the enthusiasm our revitalized efforts would generate, but our ongoing celebration of the enduring musical legacy that springs from Muscle Shoals, Ala., is winning new fans, far and wide, day after day.
We're working to bring you the full Muscle Shoals experience with our recently released album, revamped website, new merchandise, and tours of the iconic FAME Studios, as we promote the heritage of this small-town, one-of-a-kind sound.
And you have the opportunity to make yourself a part of the magic. Come take a tour of our legendary studio and soak in the soul of Muscle Shoals.
P.S. Save the date! In 2019, we'll be celebrating FAME's 60th anniversary with a very special show this summer. Stay tuned — there's more to come!
ON SALE NOW
Muscle Shoals: Small Town, Big Sound Bundle
For fans — new and old — of the Muscle Shoals sound, enthusiasts of the Americana genre, music history buffs, and those who simply want to wear or share their love for all things FAME, new merchandise including hats, T-shirts, mugs, guitar picks and more, is available on famestudios.com/store/
Curated by Rodney Hall and producer Keith Stegall, the 16-track tribute album spotlights the one-of-a-kind Muscle Shoals sound — a distinctive blend of gritty, edgy, classic southern rock and soul mixed with the soulful energy and authenticity the FAME Studio inspired in artists who recorded there.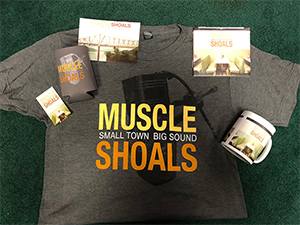 And now, for a limited time, in celebration of the reboot of the FAME website, our recently released Muscle Shoals: Small Town, Big Sound tribute album and FAME's revitalized website, and with heartfelt gratitude for our legion of fans who have joined us in promoting and memorializing the unique and enduring musical legacy of small-town Muscle Shoals, Ala., we are offering the Muscle Shoals: Small Town, Big Sound Bundle. Pay homage to the indisputable heartbeat of the iconic Muscle Shoals sound with this collection of items bearing artwork from the album cover. Your bundle includes a T-shirt, postcard, CD, coffee mug, koozie and fridge magnet. Visit our store to order today.
Gratitude for our team and community of supporters
FAME is a family, both literally and figuratively. This season is a time to reflect on all that we have accomplished together and a chance to say Thank You to our team, the partners we collaborate with, the industry, the field of the recording arts and, of course, the listeners we serve. We carry the vision for honoring the past and looking ahead to the future of the Muscle Shoals Sound and carrying that vision of progress and creativity into the new year.
Your friends at FAME