Description
Muscle Shoals Small Town, Big Sound CD.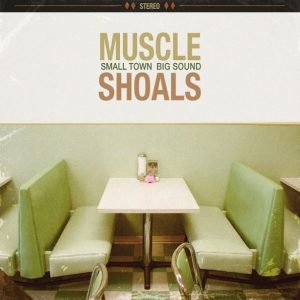 1. Road of Love – By Muscle Shoals, Keb' Mo'
  2. I'd Rather Go Blind – By Muscle Shoals, Grace Potter
  3. Brown Sugar – By Muscle Shoals, Steven Tyler & Nuno Bettencourt
  4. Gotta Serve Somebody – By Muscle Shoals, Jamey Johnson, Willie Nelson, Chris Stapleton & Lee Ann Womack
  5. Steal Away – By Muscle Shoals, Eli "Paperboy" Reed
  6. Snatching It Back – By Muscle Shoals, Kid Rock
  7. I'll Take You There – By Muscle Shoals, Aloe Blacc
  8. Cry Like A Rainy Day – By Muscle Shoals, Michael McDonald
  9. True Love – By Muscle Shoals, Vince Gill & Wendy Moten
  10. Come And Go Blues – By Muscle Shoals, Alison Krauss
  11. Respect Yourself – By Muscle Shoals, Mike Farris & The Blind Boys Of Alabama
  12. Wild Horses – By Muscle Shoals, Alan Jackson
  13. Mustang Sally – By Muscle Shoals, Brently Stephen Smith from Shinedown
  14. We've Got Tonight – By Muscle Shoals, Chord Overstreet
  15. Givin' It Up For Your Love – By Muscle Shoals, Tom Johnston & Delbert McClinton
Some places retain a quiet magic. This magic doesn't announce itself, but you do feel it nonetheless. It's in the air and among the denizens as if they're keeping a secret they can't wait to share—but hold onto tightly nonetheless. You can count Muscle Shoals, Alabama among those mythical places…
With little more than 13,000 residents, it's located 678 miles from the Motown of Detroit and just under 1,000 miles from New York City. However, this cozy community built on 16 square miles of damned-up swamp land unassumingly served as the fertile creative ground for seminal smashes by everyone from The Rolling Stones and Bob Dylan to Etta James and Aretha Franklin. You might know the words to every song by heart, but you only knew the place by studying the liner notes of dusty old vinyl's from the 60s, during which the south was at the height of the Civil Rights movement. Under the shadow of Jim Crow and the KKK, this creative bastion made a stand for equality by uniting African American and Caucasian musicians in the studio on these immortal records.
In the heart of this magical town at the intersection of two main streets, you'll find FAME Studios. Short for Florence Alabama Music Enterprises, FAME and its legendary late GRAMMY® Award-winning founder Rick Hall captured, cultivated, and preserved the "Muscle Shoals Sound" established in the late fifties. Now, that legacy gets its due with an 18-track collection in homage of the sound entitled, Muscle Shoals…Small Town, Big Sound [The Muscle Shoals Music Group/Dreamlined Entertainment/BMG]. Much like it once beckoned Jagger and Richards, the town magnetically called to Steven Tyler, Alicia Keys, Chris Stapleton, Demi Lovato, and more to re-cut its signature smashes for a new era.
So, what is it about this place?
Album executive producer, FAME co-owner, publisher, and son of Rick Hall, Rodney Hall attributes it to the sound his pops pioneered.
"The sound is one-of-a-kind," he explains. "It comes down to hooks, groove, quality, and vocals. The rooms are obviously a part of it. Mostly, it's the people and the songs though. My dad used musicians like a paintbrush. If a track called for a certain feel, he would hire the right players for that feel. We've got a pool of musicians here who have worked together for years. They've also got young guys learning under them. When young artists hear about all of the music that came out of here over the past five decades, they want to check it out. They get here, and it's a laidback atmosphere, we're just here to make music," he says. "Everyone always says it feels like home."
"There a couple of reasons it took so long for word to get out about Muscle Shoals," he explains. "One is that we were in the middle of nowhere. There was never a large media market close to us back in the day. There were no interstates, chain restaurants, it was a dry county until the 1980's. The other reason is we weren't as much of a record label as Motown was. We were a behind-the-scenes production house. For years, the only way people knew about us was by reading album liner notes. The documentary was a piece of the puzzle we'd been working on, because we knew the story was great."
They compiled a list of hundreds of songs recorded in the area and sent them to a handful of dream artists. These acts then made the trek to FAME in order to track on the same hallowed ground with legendary studio musicians who played on many of the original recordings. Eli "Paperboy" Reed took on Jimmy Hughes' "Steal Away" first in 2012, while Alicia Keys breathed new life into Dylan's "Pressing On" thereafter.
Around the same time, producer Jim "Moose" Brown invited Jamey Johnson to participate, who in turn invited Willie Nelson, Chris Stapleton, and Lee Ann Womack to join him on a powerhouse collaboration for another Dylan classic "Gotta Serve Somebody." With that once-in-a-lifetime combo on tape, excitement spread through the industry. "That record was the seed for the whole album," exclaims Rodney. "It got everyone excited. Norbert Putnam had introduced me to the legendary Keith Stegall, who freaked out over "Gotta Serve Somebody." Once Joined by Stegall and his Dreamlined Entertainment Company, Rodney's vision was brought to life.
"This record has been a full circle for me," says Stegall. "It's the music I grew up on and that impassioned me to become a writer and a record producer and the music to which I owe my love and deepest respect. It's where I started and where I've ended up."
Over the next five years, the full tracklisting took shape. Michael McDonald lent his voice to Etta James' "Cry Like a Rainy Day," while Alan Jackson brought "Muscle Shoals spirit" to the Stones' "Wild Horses." Elsewhere, Shinedown's Brently Stephen Smith wailed on Wilson Pickett's "Mustang Sally," and Demi Lovato belted like her life depended on it during Franklin's "I Never Loved a Man." Prior to his 2018 passing, the elder Hall provided the original 1969 track for Clarence Carter's "Snatching It Back" featuring Kid Rock. Accompanied by iconic guitarist Nuno Bettencourt, Steven Tyler closed out the sessions with a rambunctious, raucous, and rowdy take on "Brown Sugar" from The Stones.
Other artists included in the compilation are Keb' Mo', Vince Gill, Wendy Moten ,The Blind Boys of Alabama, Mike Farris, Delbert McClinton, Tom Johnston, Allison Krauss, Grace Potter, Aloe Blacc, Jason Isbell and John Paul White.